Roman Krasnovsky was born in Donetsk, Ukraine, in 1955. His father was an orchestra musician. At the age of five he began to play the piano, and resolved to make music his livelihood.

Mr. Krasnovsky obtained a thorough musical training from high school through college and studied at various conservatories in the Soviet Union.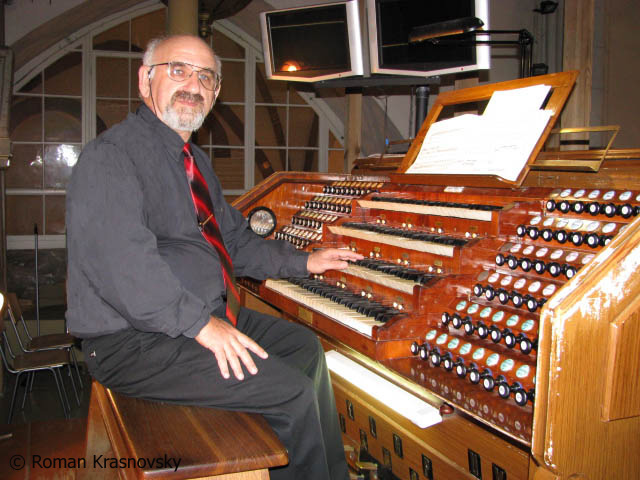 As a child he took a lesson from the composer Aram Khatchaturian who urged him to study composition with him at Moscow conservatory after high school. Yet, the overwhelming impression the great master made over the teenager Krasnovsky led to an abrupt break of his composition activities. The youngster decided to become an interpreter of music, not a creator.
He pursued his education and career. He began to perform in public as a soloist of the Symphony orchestra of the Donetsk Philharmonic Society when he entered the Music College in 1970. He continued his studies at the Art Academy of Kharkov, Ukraine, until 1979.
As a student he performed with the Symphony Orchestra of the Kharkov Philharmonic Society where he played keyboard instruments such as piano, harpsichord and celesta. He frequently performed as a soloist with the symphony orchestra, playing piano concertos of Rachmaninov and Prokofiev, Gershwin's Rhapsody in Blue, and Johann Sebastian Bach's six harpsichord concertos. Continuing to pursue his solo career he performed practically all Bach's works for harpsichord. In addition, he was the accompanist of international soloists such as Victoria Mullova .
Mr. Krasnovsky studied the organ under Professor Galina Kozlova at the Conservatory of Gorky, now Nizhni Novgorod, Russia, from 1986 until 1989. He has given organ recitals throughout Ukraine and as far north as the Baltic Republics, and perfected his playing in masterclasses held by Professor Leo Kramer of Speyer, Germany, as well as with various professors from Vienna, Austria and other musical centers. His chief activity was as orchestral pipe organist of the Kharkov Philharmonia. Mr. Krasnovsky was also active as a pianist, harpsichordist, solo organist and accompanist of renowned musicians.
Mr. Krasnovsky immigrated to Israel in 1990, and now lives in Carmiel in northern Galilee. He taught at the"Rubin Academy of Music and Dance" in Jerusalem as an assistant professor from 1993 till 1997. He also teaches piano at the Conservatory of Carmiel. He performs regulary at the organs of the Church of the Savior and the Dormition abbey in Jerusalem, in the city of Jaffo, as well as in Tabha, a small town on the lake of Tiberias. He accompanies chamber ensembles and he is a soloist of well-known orchestras such as the Israel Symphony orchestra, and also accompanies foreign performers touring in Israel. His activities also include piano recitals and TV performances. Dan Shilon, the famous Israeli talk show host, invited him twice to his weekly talk show on Israeli TV. He has been invited to perform as an organist and a pianist at numerous events in Austria, Germany, The Netherlands, Switzerland, Italy, Taiwan, China, England, Belgium and the United States. He has taught in organ course in Westfalia, Germany, and was asked for more courses in the future.
He is presently establishing series of regular organ recitals in his home town, Carmiel. After a twenty years' hiatus in composing, the tragic assassination of the Israeli Prime Minister Itzhak Rabin brought him back to composition. "Mourning Itzhak Rabin", an organ piece, was first performed on Krasnovsky's annual winter tour to Europe. Both the Cologne and the Frankfurt public and press highly praised the work and the interpretation the composer gave himself. He then went on and gave a first performance of other of his compositions during his August/September tour to Switzerland and Germany this year (1997). Critics welcomed the works enthusiastically and urged Krasnovsky to go on composing.
In 1993 he issued a compact disc "Organ Music from St. Elisabeth church", Marburg/Lahn, produced by Hanssler Classic LC 98.994. Hanssler Production also released a disc with various highly praised European organists, such as Hans Haselbock. Krasnovsky's interpretation of Bach's Prelude and Fugue in D major, BWV 532 was chosen as the first piece of this disc, LC 98.103.
This was also the piece of music he had the privilege to perform in a private session to the Israeli Prime Minister Ytzhak Rabin in Jerusalem, one and a half year before the tragic death of Rabin.
A further compact disk was recorded at the Stocmann organ in Basilika Werl.
Recently, another compact disc was recorded at the Silbermann organ in Basel St. Peter church and at the Kuhn organ at the Lenzburg City Church (both in Switzerland). He also recorded a piano compact disc in the Eckenstein Studios, Basel, Switzerland, in September 1997.
Mr. Krasnovsky's repertoire encompasses a broad spectrum of music, ranging from the Baroque to the Classical eras, and from Romanticism to music of the Twentieth Century. He is particularly committed to Olivier Messiaen and Francis Poulenc.
Mr. Krasnovsky has written original organ compositions including 3 symphonies. His latest CD, "3 Orgelsinfonien", has been released recently by the Hadulla Records label.